TERRE Team Participated ISB Global Social venture Competition
Pune, 15 Feb 2014
Team of 3 social entrepreneurs and TERRE members entered into finals of Global Social Venture Competition (GSVC) organised by Indian School of Business, Hyderabad. [read...]
An expert roundtable on the future of RAC industry in India
Pune, 15 Feb 2014
TERRE Policy Centre in collaboration with Institute for Governance & Sustainable Development organized a expert roundtable meeting titled "Selecting and Best Service Practices for...[read...]
TERRE Policy Centre, new non-State Partner in the Climate Change and Clean Air Coalition
Pune, 15 Feb 2014
Thirty-five countries and the European Commission who are State Partners of the Climate Change and Clean Air Coalition to Reduce Short-Lived Climate Pollutants (CCAC or the Coalition) have unanimously approved TERRE Policy Centre as a non-State Partner of CCAC. [read...]
Green Olympiad Award Ceremony
Well Hand over Program at Vandre Village
Vandre Village Well construction inauguration Ceremony
Assessment of reduction Short-Lived Climate for Panvel City
The purpose of this Agreement is to cooperate with TERRE Policy Centre in implementing the approved project: Climate and Clean Air Coalition (CCAC) to Reduce Short-Lived Climate Pollutants (SLCPs).This PCA is concluded within the context of the CCAC Mitigating SLCPS from the Municipal Solid Waste (MSW) Sector. This initiative's overarching goal is to enable cities, with the support of their regional and national governments, to move along waste hierarchy in a coordinated and cohesive manner in order to mitigate methane and black carbon emissions. TERRE Policy Centre has been selected to implement this PCA due to its strong presence and close relationships with national governments and cities in Maharashtra, India, which is a target country of the CCAC.
Dr Abdul kalam Young Scientist Fellowship
In reverential memory of late President and Scientist Dr. A.P.J. Abdul Kalam, TERRE Policy Centre, instituted the scheme for Dr. A.P.J Abdul Kalam Young Scientists Fellowship with the aim of distinguishing young scientists from rural areas of extraordinary promise and creativity who have made notable research contributions in in the field of Environment protection. This fellowship has been managed and funded by TERRE.
The fellowship web site has been launched. For further details, visit : www.terredrkalamfellowship.com
Engaging Local Communities in Stewardship of World Natural Heritage
Awards for An Initiative towards creating an Innovative model for Community led Conservation and Sustainable Management of UNESCO sites in the Northern Cluster of Western Ghats, India
Project Objectives
Overall objective of the project is to evolve a model of participatory and people-led conservation and sustainable management in Western Ghats UNESCO Natural Heritage Sites through a series of structured multi-stakeholder dialogues and field initiatives.
Western Ghats World Natural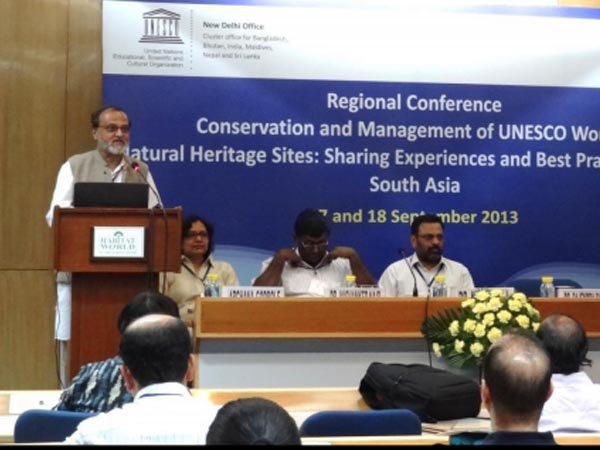 TERRE participated, delivered the presentation and facilitated the session on Western Ghats World Natural Heritage in the UNESCO seminar in New Delhi in Sept 2013
Earth Care Awards 2015
Awards for Excellence in Climate Change Mitigation and Adaptation This joint initiative between JSW & The Times of India has been fuelled by the incorporation of successful inhouse climate change mitigation measures within JSW and the urge to facilitate further action through a mass eco-consciousness movement by engaging the people of the country.
TERRE Policy Centre is the out reach partner and CEE is the knowledge partner in this initiative. The technical framework including questionnaire, application pack is developed by CEE and it is also responsible for short listing, field evaluation, ranking and final presentation to the Jury for selection of Awardees.
Brohcure | Community Application Form
Smritivan
"Smritivan" can be translated to its literal meaning as "Forest of memory". We all have some really special people in our lives, be it family, friends or even ideals. Many reasons can do us apart from these people, be it circumstances, distances or even death. Though the aloofness of physical being of someone, we always cherish their existence in our minds through our memories.
Earth Care Awards 2014
To highlight activities emanating from different sectors in response to the call for local level action to support climate change mitigation and adaptation. The awards for this year reflects India's priorities and commitment towards domestic level action and clearly highlights activities which has gone beyond compliance measures and leads to increasing resilience of communities.
A good start to 'Energy Efficient Campus' project
College campuses are the crucibles in which precious metals called 'youth' are molded. Injecting the best practices of making the campuses energy efficient is like adding the knowledge-value to such molds. TERRE Policy Centre forged the partnership between Scholars from Princeton University –USA and the campuses in India at Pune and Satara in India to promote such best practices.
Kaas World Natural Heritage site: Report Card
The State of Maharashtra, India hosts a niche-treasure of biodiversity in its Western Ghats called the 'Kaas - Plateau of Flowers'. Geographically located at 17º42' - 17º45' N and 73º47' - 73º56'E in the Satara district of Maharashtra, Kaas is a lateritic plateau at the height of 1200 meter above mean sea level. It is spread over about 1800 hectors of land. More than 450 species of wild flowers bloom in and after the monsoon season, most of which are endemic herbs. This area has been attracting the attention of tourists, botanists and environmentalists over the last decade. It is a sensitive biodiversity hotspot with several different varieties of unique endemic herbs, shrubs and other flora and fauna. Many studies have been undertaken to list their endemism.
Earth Care Awards 2012
TERRE was associated with the Earth Care Awards 2012 event, organized by JSW and Times of India.
Convention on Biological Diversity 2012 held in Hyderabad, India
TERRE was an active participant at the Convention on Biological Diversity 2012 held in Hyderabad, India.
Dr. Shende was invited as a speaker for the event - Social Benefits of Ecosystem services enhanced by restoration/rehabilitation of Degraded landscapes - sharing experiences of technological and social approaches
TERRE organized the event - Biorights of commons for conservation of biodiversity, in association with SAFE
The event 'World Natural Heritage and Sustainable Development: Case of Western Ghats in India' was organized by TERRE in association with UNESCO and WII
http://www.cbd.int/cop11/
World Environment Day in association with Hotel Leela, Mumbai
TERRE celebrated the World Environment Day in association with Hotel Leela, Mumbai and announced the Life time achievement award to renowned environmentalist Shri. Mohan Dharia, for his dedicated work in the field of environment.
Power Point Presentation Competition
TERRE organized a Power Point Presentation competition for school children on 'Sustainable Development' at district level. More than 1000 students participated in the event. Mr. Atul Bagai, Regional Coordinator, UNEP Bangkok and Director Pollution Control Board, participated in the Prize Distribution Ceremony.
Environment Quiz competition at Mumbai
JSW foundation organized an Environment Quiz competition for Municipal Schools of Mumbai. TERRE was the Knowledge Partner for this grand event held on Children's Day.
HCFC free air-conditioners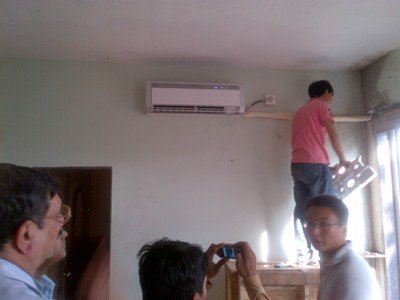 GREE (China), the renowned organization for air-conditioners, installed two HCFC free air-conditioners in TERRE Policy Centre as demonstration units. This was announced through press release in the Meeting of Parties to the Montreal Protocol in Bali.
Renewable Energy and Green Job Opportunities
Conference in 2009 on "Renewable Energy and Green Job Opportunities" that TERRE organized in association with Centro Studio Galelio, Italy and European Energy Centre, UK, Human Resources Development in renewable energy became one of the priorities of TERRE's portfolio.